V belts (also style V-belts, vee belts, or, less commonly, wedge rope) solved the slippage and alignment problem. It is now the basic belt for power transmission. They provide the best combination of traction, speed of movement and long service life. They are generally endless, and their general cross-section shape is trapezoidal (hence the name "V"). The "V" shape of the belt tracks in a mating groove in the pulley (or sheave), with the result that the belt cannot slip off. The belt also tends to wedge into the groove as the load increases—the greater the load, the greater the wedging action—improving torque transmission and making the V-belt an effective solution, needing less width and tension.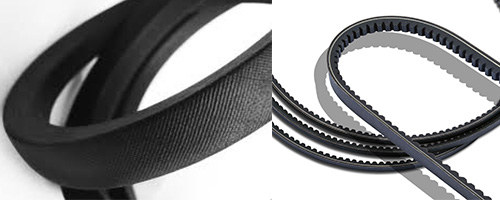 For high-power requirements, two or more V-belts can be joined side-by-side in an arrangement called a multi-V or by using 'Banded' V Belts, running on matching multi-groove sheaves.
V-belts are generally made of rubber or polymer and have fibers embedded in the rubber or polymer for strength and reinforcement. The fibers may be of textile materials such as Nylon or polyester or aramid.
Belcon is the authorised distributor for western India for SWR EUROPE Make V Belts. SWR EUROPE V Belts are manufactured on state-of-art lines from Germany in ISO 9001 & ISO 14001 certified production facilities using the latest production technology and subjected to the most stringent quality controls to ensures that our customers are supplied with high standard products. SWR EUROPE Belts meet all valid international standards like DIN, BS, ISO, RMA/ MPTA, JIS, etc.
All SWR EUROPE V Belts are electrically conductive (anti-static) to DIN ISO 1813 and are suitable without restriction for use in tropical regions, are oil and heat-resistant with restrictions up to 120° C.
SWR EUROPE offer a wide range of belts to satisfy the most demanding application.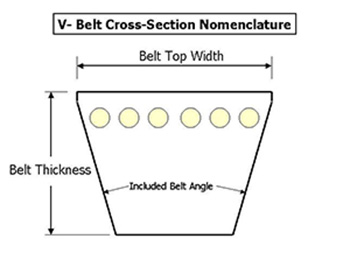 | Belt Code | Top Width (mm) | Belt Thickness (mm) |
| --- | --- | --- |
| Z | 10 | 6 |
| A / AX | 13 | 8 |
| B / BX | 17 | 11 |
| C / CX | 22 | 14 |
| D | 32 | 20 |
| E | 40 | 25 |
| SPZ / XPZ | 9.7 | 8 |
| SPA / XPA | 12.7 | 10 |
| SPB / XPB | 16.3 | 13 |
| SPB / XPC | 22 | 18 |
| 3V / 3VX / 9N | 9.5 | 8 |
| 5V / 5VX / 15N | 15.9 | 13 |
| 8V/ 8VX / 25N | 25.4 | 23 |
Hexagonal / Double V Belt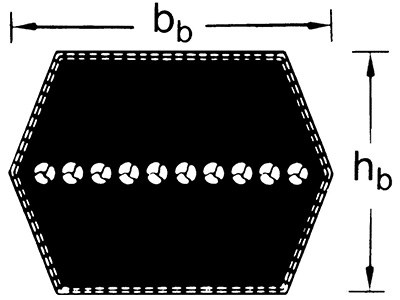 | Size Code | Top Width (mm) | Belt Thickness (mm) |
| --- | --- | --- |
| AA | 13 | 10 |
| BB | 17 | 13 |
| CC | 22 | 17 |
Download Current SWR EUROPE V Belt Price List Click here
Go Back