To achieve higher coefficient of friction, extra thickness or better abrasion resistance in a standard belt, extra layer of backing such as rubber, polyurethane, foam, PVC, fabric, etc. is applied.
Also known as Haul Off Belt or Bagger Belt or VFFS Belt the coated belt consists of any basic belt (Like Timing Belt, Poly V Belt, Flat Belt, etc.) and a extra layer of cover.
Coating can be of various types like Rubber, PU, Silicon, Sponge, Foam, Textile, PVC, Supergrip, etc. And the base belts can be Rubber or PU Timing Belts, Poly V belts, Flat Belts, etc. Depending on the requirement, these belts can be with or without vacuum wholes, Slits, Tooth Grinding, Profiles, etc.
Such belts are used in various industries like Packaging, paper, labeling, metal, Food, Glass, ceramic, textile, etc. some of the popular applications are in the Vertical Form Fill Seal (VFFS) machine as puller belts, in printing as feeder belts, in labeling machines as massage belts.
Belcon Powertrans LLP offers a large range of belts & coatings to suit a wide design requirement.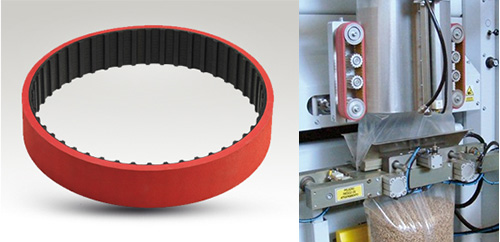 Base Belts Offered:
Rubber Timing Belt
Polyurethane Timing Belt
Rubber Poly V Belt
Flat Belts
Coatings Offered:
High Abrasion Rubber
PU Coating (90 Shore A)
PU Sponge
PU Foam Hard
PVC Super Grip (Rough Top)
Rubber Foam
Textile Fabric
Machining:

Go Back