PVC / PU conveyor belts are the most commonly used belts for conveying application. These belts are made from high strength polyester carcass laminated with PVC / PU coatings - having Plain or textured finish.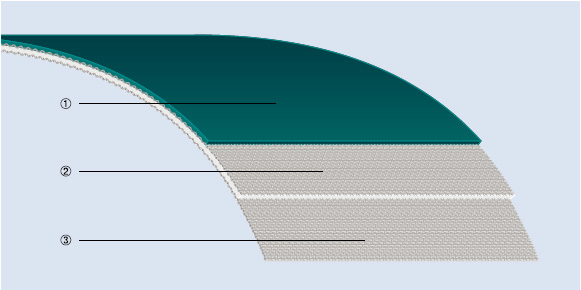 Top Surface: Coated with PVC / PU or Non Coated.
Tension Member: Fabric of high strength polyester mono filament
Bottom Layer: Bare Fabric or coated with PVC / PU
Properties:
Virtually Stretchless
Dimensionally Stable
Flexible
Low Noise
Easy Maintenance
Easy to Handle & Economical to Use
PVC / PU belts can be used in horizontal, incline or even curved conveying applications. They are available in various thickness, colours, chemical resistance and with various surface & bottom patterns. These belts can also be fitted with Sidewalls, Cleats (partitions), tracking guides, etc.
PVC / PU belts can be supplied as Endless belt using hot vulcanization or with mechanical fasteners. All our cleats and sidewalls are welded using the most modern Ultrasonic welding system which ensures clean and strong fixing of Cleats & Sidewall.
Due to its versatile nature PVC / PU conveyors are used in the basic to the most demanding applications in almost all types of industries like material handling, Food, Fitness, Ceramic & Tile, Textile, Engineering, Airports, Automobiles, Electronics, Chemical, Packaging, Paper & Board, Distribution & logistics.