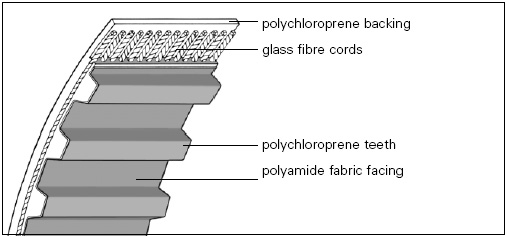 Synchronous drive belts are composed of:
polychloroprene teeth and backing
polyamide fabric facing
glass fibre cords
Polychloroprene teeth and backing
The teeth and belt backing are made of highly loadable polychloroprene-based elastomer materials, firmly bonded to the tension member and fabric facing.
Glass fibre cords
Synchronous drives call for maximum length stability and tensile strength of the belt. These requirements are optimally met by low-stretch glass fibre cords helically wound over the entire belt width. Lateral mistracking is minimized by using S/Z cords arranged in pairs.
Properties
Constant angular velocity and uniform speed transmission
In much the same manner as the teeth on a gear, the teeth of the belt make positive engagement with the mating tooth spaces on the pulleys.
The positive-grip drive principle ensures synchronous operation and constant circumferential speed.
Freedom from high tension
The tooth forming principle requires only a very low belt tensioning and so the load on axles and bearings is kept to a minimum.
Minimal space requirements
High dynamic loadability and high power transmission capacity allow the use of small pulley diameters and short centre distances. This enables designers to design economical drives which are not only compact but also light in weight.
High belt speed
Low inertia forces and outstanding flex life ensure reliable drive systems up to belt speeds of 60 m/s.
Quiet operation
The supple belt design with fabric-faced rubber teeth in combination with metal or plastic pulleys reduces drive noise to a minimum.
Lubrication- and maintenance-free
Timing belts are maintenance-free.They need no lubrication or retensioning. Constant belt tension is guaranteed by the use of high-strength glass fibre cords as the load-bearing element.
High efficiency
The flexible and supple belt design as well as optimum dimensional match between the belt toothing and pulley tooth spacing allow virtually friction free drives with an efficiency of 98%.
Timing Belts have the following standard properties. They are resistant to:
Temperature range from +100°C to -20°C according to application and are:
Unaffected by tropical climates
Insensitive to weathering
Available Sizes


For standard available size list click here
Pitches
Timing Belts are supplied in 6 tooth pitch sizes. They comply with DIN ISO 5296 standard and can be used internationally. Stock pitches and their dimensions are shown in the above table.
Lengths
Timing Belts are available in lengths to cover a broad range of applications. In addition, special belt lengths can be furnished on a made-to-order basis. For stock lengths, refer to Tables 2 to 6 on Pages 8 to 11.
Widths
Stock widths are contained in the tables for stock lengths. Non-stock widths are also available on request.
Belts with special characteristics
Timing Belts have the standard properties listed on Page 5. Consult our engineers for special types.
Go Back